The BNC connector is used for composite video on commercial video devices. Consumer electronics devices with RCA connector jacks can be used with BNC-only commercial video equipment by inserting an adapter. BNC connectors were commonly used on 10base2 thin Ethernet network cables and network cards. Bnc connector supplier in Dubai.
The N connectors are a threaded, waterproof, medium-size RF connector used to join coaxial cables. It was one of the first connectors capable of carrying microwave-frequency signals,that can operate up to 18 GHz. the male and female connectors are usually made of brass or stainless steel. They terminate to either a coaxial cable or to a circuit board by crimping, clamping or soldering.  N connector supplier in Dubai.
The TNC connectors threaded weatherproof series with a constant 50 Ω impedance and a frequency range of DC to 11 GHz, they are similar to BNC connectors, but have a screw-type coupling mechanism that ensures uniform contact thereby minimizing reflections and attenuation. TNC connectors are widely used in antennas, avionics, defense, communications, and general industrial markets. Tnc connecter supplier in Dubai 
The F connectors are a coaxial RF connector commonly used for "over the air" terrestrial television, cable television and universally for satellite television and cable modems, usually with RG-6/U cable or with RG-59/U cable. unlike other connectors like the RCA or BNC, they can carried UHF or VHF signals to a TV,crimp on and compression plugs. F connector supplier in Dubai.
The Ultra High-Frequency (UHF) connector is a threaded coaxial connector that was developed in the 1930s. They name these connectors at a time when the UHF frequency range was considered to be 300 MHz and upward. Despite their name, contemporary UHF connectors are used for low-frequency applications. UHF connectors were initially used in radio broadcasting use and with a design that is related to the banana plugs. Uhf connector supplier in Dubai
The SMA connectors are most commonly used in microwave systems, hand-held radio and mobile telephone antennas and, more recently, with WiFi antenna systems and USB software-defined radio dongles. It is also commonly used in radio astronomy, particularly at higher frequencies (5 GHz+). Sma connector supplier in Dubai. 
What is RF connector?
An RF Connector (Radio Frequency Connector sometimes referred to as "coaxial connector") is designed to maximize the shielding available in coaxial cables. RF Connectors typically offer a secure mating connection as well as high mating cycles with multiple fastening types available.
What are the different types of RF connectors?
Connector Types: SMA, SMB, MCX, MMCX, BNC, TNC, N, F, UHF, CRC9, TS9, and so on.
Genders: male(plug) and female(jack)
How do I choose an RF connector?
The Characteristic impedance of the connector must match that system and RF coaxial cable. Connector interface must meet the characteristic impedance 50 ohm or 75 ohms. If not, it will descend the system performance. Make sure that working voltage of the connector is under the maximum tolerance voltage. RF surges protector connector supplier in Dubai.
How do you identify RF connectors?
Typically, standard RF plugs are male, and the threads are on the inside of the shell. Typically, standard RF jacks are female, and the threads are on the outside of the shell. The shell of a plug (male) typically covers the shell of a jack (female).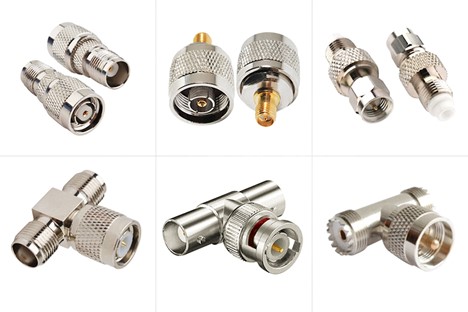 What is RF Adaptor?
RF Adapters are passive coaxial components that are used to transfer signals from one connector interface to another.
What is an RF adapter used for?
RF adapters are commonly used to change gender or as connector savers in precision test and measurement applications. They are also used to transfer signals between connector interfaces. Coaxial adapters are available in 50 ohm and 75 ohm designs. Standard polarity and reverse polarity Jack(female) to Jack(female), Plug(male) to Jack(female) and Plug to Plug adapters are available across most RF interfaces. The polarity of an interface can be changed by changing the center contact from male to female or female to male depending on the adapter interface.
How to select an RF Coaxial Adapter?
Configuration; Application
What type is RF adapter?
SMA Adapters; SMB Adapters; SMA Adapters; BNC Adapters; TNC Adapters; UHF Adapters; N Adapters; F Adapters 
What is an RF cable used for?
RF cables are a type of coaxial cable that is used to send radio frequency signals. RF cables are often used to send video information to a TV set.
What are the four types of coaxial cable?
The common types of coaxial cable include:
Hard line coaxial cable.; Flexible coaxial cable; Semi-rigid coaxial cable; Formable coaxial cable; Rigid coaxial cable; Twin axial cable; Triaxial cable. 
What is the maximum voltage allowed on a coaxial cable?
The coaxial cable's diameter conduction allows for relatively high-power transmission capabilities, depending upon the operating frequency. At 10 Hz, the cable can transmit 1,869 watts while at 3 GHz, the maximum power is 93 watts. The cable's maximum operating voltage is 1,200 volts.
How do I test if a cable is live?
To test for a live electrical wire either a non-contact voltage tester or a digital multimeter is used. A non-contact voltage tester is the safest way for testing live wires, performed by placing the machine near the wire.