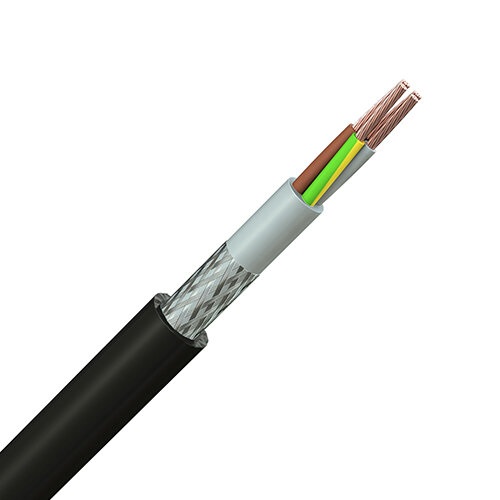 Control cables are multi-conductor cables used in automation and instrumentation applications. Control cables can measure and regulate transmissions of automated processes. Control cables are often UL rated. Control cables typically are shielded with a foil shield, braid shield or combination of the two.
YY cable (YSLY / HSLH) Versatile unscreened or unshielded cable suitable for most situations where there is only light mechanical stress
CY cable (YSLCY / HSLCH) Multicore screened flexible cable with Polyethylene Terephthalate (PETP) for electromagnetic interference free-transmission
SY cable (YSLYSY / HSLHSH) Flexible shielded cable with galvanised steel wire braid for additional mechanical protection
LiYCY cable Screened and shielded cable for applications where moderate mechanical stress and electromagnetic screening is required
LiYY cable Unscreened and unshielded cable for light duty in dry and humid environments
LiHH cable Unscreened LSZH low capacitance control
LiHCH cable Screened LSZH data transmission cable
Application: Suitable for connections for Control Circuits, Communication Systems, Electrical Panels, Machine Tools, etc. Also used for lighting at lower loads.
Types and Sizes: Up to 24 pairs/cores from 0.5 sq.mm to 10 sq. mm.
Conductor: Copper – Solid, Stranded (Circular) or Flexible – Bare or Tinned
Insulation: PVC – Type A, Type C, Polyetheylene, XLPE
Inner Sheath: PVC – ST1, HR, FR, FRLS, LSZH
Armour: Galvanized Steel Wire / Strip / Tape
Outer Sheath: PVC, HR, FR, FRLS, LSZH
Specification: IS: 1554 (Pt-I), IS: 7098 (Pt-I), IEC: 60502-1, BS: 5467, BS: 6346
Brands: RR cable, Lapp cable, Ramcro, Sanka, Nexans, MESC, Seecab, Helukabel, 2m kablo and  Belden control cable Supplier in Dubai-UAE