Our people are a key to the service we offer and meeting customer's needs is our number one priority. Everything we do is judged against one question; how does this benefit the customer?  
Come and put a face to a name and meet the team that make it all happen.
Cables House achieved the ISO 9001:2015 certification from DM approved vendor in Quality Management System (QMS). The certification is an internationally recognized standard, ensuring company processes related to products and services meet the requirements of customers through an effective quality management system.
The process to achieve ISO certification includes extensive preparation, evaluation and the documentation of processes across all departments within the company. This certificate confirms Cables House's continuous search for efficiency and quality improvement, while embracing innovation to stand out of the crowd with quality service and products.
From quality accreditation to membership of standards organizations, our certification ensures we're ahead of the game.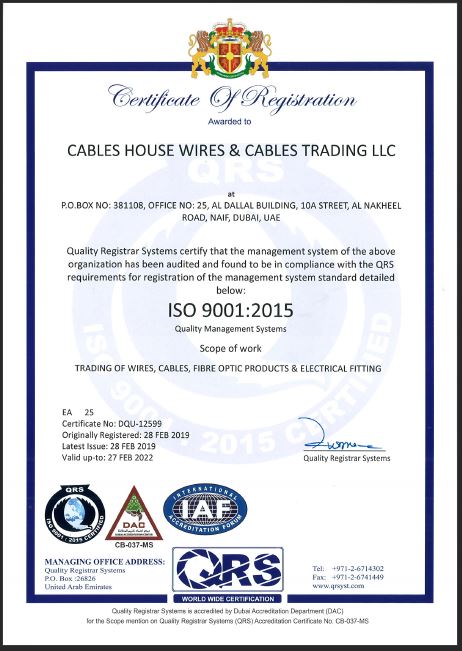 We know quality is important to you and your business that's why we take it seriously.
Whether it's the quality of our products or the service you receive, we constantly strive to be better.
The range of cables offered has grown over the years and now includes over 6000 product lines. Our market focus is on specialist and industrial markets from building automation systems and railway installations to chemical separation and energy generation. If you are looking for something really special we have the skills to offer a bespoke solution for that too. At Cables House we have always taken product quality and our environmental responsibilities seriously. All production facilities are regularly visited and monitored to ensure the cables meet the relevant standards and the impact on the planet is kept to a minimum. Cables House holds ISO 9001-2015 quality accreditation by Dubai Accreditation Department (DAC) has been established in Dubai Municipality (DM) to monitor these areas in house and through the product supply chain. We want you to experience the best service available and we will always welcome your feedback.
Operations Team-Email: Info@cableshouse-me.com
Cables House Wires and Cables Trading LLC is a distributor and stockiest for special and low current cables since 2006, business partner with several multinational manufacturers to meet all the customers' needs and cables requirements.
Cables House was born as we identified a specialized service was required to make overseas trading run smoothly. Sending the goods out the door is the easy bit, getting the export regulations, packaging & documentation correct is another challenge all together. Fortunately we are now experts in it. We are authorized by the Chamber of Commerce to produce all the export documentation in house providing you with a fast and efficient service.